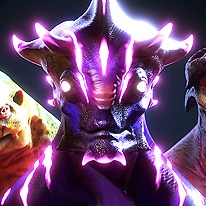 Sidus Heroes
-
23,618 Plays
How to play Sidus Heroes?
Sidus Heroes is a Play-To-Earn MMORPG game based on NFT that offers a blockchain universe full of adventures and possibilities.
Sidus transports players to a universe based on cryptocurrencies and blockchain philosophy in which futuristic technology has changed the world forever.
The inhabitants of this universe are part of different technological factions that battle each other for supremacy of all existence.
How to play Sidus Heroes?
Build and equip your ship and embark on dangerous intergalactic missions. Plunder the galaxy as pirates plunder the seas.
Command legions, unite heroes from different corners of the galaxy, train them and evolve with them. Besides, thanks to the multiplayer you will be able to share your games with other players and participate in combats with great rewards.
In Sidus Heroes you can become the most powerful being in the universe. To do this you will have to start from the bottom, search for resources, build your faction and create your little corner in the universe to start with the expansion.
In addition, you will have to take part in the political life of the different galaxies of Sidus Heroes. Be the most voted, represent your race or faction and fight for your interests.
What heroes can we find in Sidus?
Sidus is a universe of NFT heroes coming from different planets of the blockchain network. When affiliating to a planet, the player chooses his hero race, as well as his characteristics and appearance. Each character in the game is an NFT from one of the Sidus collections that serve as an entry ticket to their metaverse.
The original Sidus collection of NFTs consists of 6,000 unique characters that have different levels of rarity. The rarity levels of Sidus NFT characters are:
Original
Rare
Legendary
Comrade
In addition to serving as an entry ticket to the Sidus universe, NFT heroes from the Founders collection can be used for gambling and as a container.
How does Sidus Heroes trading work?
Build and trade. Trade your items in the galactic bazaar, where you can find anything you need. Negotiate and get your most desired items at the best price or through a fair deal.
Explore the metaverse in search of new travel companions. Visit the blockchain system and soak up its different cultures.
How does combat work in Sidus Heroes?
Challenge other players to duels to the death to win the best rewards.
Test your PvP skills in one-on-one combat against other players. Upgrade your weapons and equipment and show no mercy to your opponents. Only the strongest will win the victory, thus achieving the best rewards in real money.
The gameplay of Sidus Heroes is developed through RPG action mechanics, arcade and real-time strategy; the commitment to different genres expands the range of possibilities for all kinds of players.
Combat in the Arena where teams of 3 players face each other to defeat the others.
Territories and activities
There are three types of territories in Sidus Heroes on each planet and station:
Neutral
Competitive
Private
Neutral territories offer free access to everyone and belong to the players in the game.
Competitive territories belong to the player who organizes a tournament until the start of the next one. Finally, private territories can be sold to players at a fixed price, at auction or purchased through the game's marketplace.
Is Sidus Heroes safe?
Sidus Heroes is a game based on NFT tokens secured by the blockchain system. Players can invest real money in the game's metaverse and earn much more real money through their hours of play, activities, business and in-game combat. Thanks to blockchain technology, players are holders of their in-game items.
Sidus Heroes works through two types of proprietary tokens: SIDUS and SENATE. All transactions in the game must be made with these two tokens, depending on the type of activity.
Explore space and become the most powerful being in the galaxy by obtaining resources, trading, making politics, reaching agreements and, of course, fighting against other factions.

Minitorneos, chat & make friends
🕹️ Which games are similar to Sidus Heroes?
❤️ Which are the latest Action Games similar to Sidus Heroes?
🔥 Which are the most played games like Sidus Heroes?