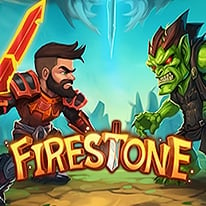 Firestone Idle RPG
-
1,392,492 Plays
How to play Firestone Idle RPG?
Firestone is a dormant role-playing game set in Alandria's fantasy world, where the forces of the undead and the orcs have gathered for the first time in millennia to bring chaos and disorder to the kingdom! Your goal is to stop them and retrieve the gems of power to build a company of heroes. Venture around the world and enjoy the battles!

Version 5.1.0 What's New:

New:
A new "Storyline quests" system has been added for the new users, with rewards for completed minitasks. The tutorial for begginers have been enhanced for better understanding.
Expanded the research trees on Library, Exotic Merchant and Alchemist.
Game arquictecture enhanced and secured server side to avoid cheating.
Changes:
Beer changes: The beers will be dropped from a dragon in the battle from now on. The beers generated offline will also be dropped from the dragon instead of appearing in the offline earnings popup.
Battle UI has been redesigned to be more minimal and easy to use.
Goddess Aurelia has been redesigned, along with several other female heroes.
Unlocked heroes will be summoned visually.
You can switch between Desktop and Mobile UI from the settings menu.
Several minor changes and some bugs fixed.
ATTACK

1

-

3

HABILIDADES

4

-

6

USAR PERGAMINOS

b

BAG

c

CHARACTER MENU

e

TEMPLE OF ETERNALS

g

GUARDIAN MENU

h

HALL OF HEROES

l

LIBRARY

m

MAP

p

PARTY

q

QUESTS

s

SETTINGS

t

TOWN

u

UPGRADES
Minitorneos, chat & make friends
🕹️ Which games are similar to Firestone Idle RPG?
❤️ Which are the latest Multiplayer Games similar to Firestone Idle RPG?
🔥 Which are the most played games like Firestone Idle RPG?