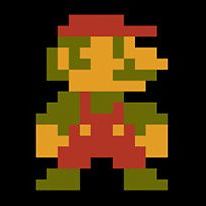 Super Mario Bros.
18,678,684 Plays
How to play Super Mario Bros.?
Enjoy this wonderful version of the Nintendo classic! Jump, collect coins and power-ups, crush your enemies and stay by Mario in every stage. However, if you prefer Luigi, you can enjoy
Super Luigi Bros
as well!
How to play Super Mario Bros?
This classic video game has very simple controls that nevertheless offer great gameplay. Use the directional pad on your keyboard to move Mario or make him crouch. Use the Z button to jump by pressing a direction on the arrow pad to direct the jump. Use the X button to make Mario run around the stage, which will help you escape from enemies and make longer jumps. You'll find "power ups" around the stage that will make Mario more powerful. The red mushroom will make him grow. The flower will give him the power to throw fireballs. The green mushroom will give him an extra life. Use them wisely and defeat all the enemies you encounter.
Want tips on how to be the best in Super Mario Bros?
There are a few shortcuts in Super Mario Bros that will allow you to skip some of the more dangerous worlds and quickly advance through the adventure. To go to worlds 2, 3 or 4 from 1-2, go to the area with the platforms that go up and down and try to reach the top of the level. If you continue walking you will reach an area of pipes where you can choose which world to go to. From world 4-2 you can go to world 6, 7 and 8. You will need to find two invisible blocks in between two pipes with the Koopa Troop between them. Climb back up to the roof and you'll find other pipes that will take you to other worlds.
Who created the original Super Mario Bros?
The original Super Mario Bros. was created by the famous Shigeru Miyamoto in September 1985, produced by the company Nintendo, for the NES (Nintendo Entertainment System) platform. This game was the one that popularized the character of Mario and catapulted him to fame, being one of the most recognized characters in the history of video games until today.
Minitorneos, chat & make friends
🕹️ Which games are similar to Super Mario Bros.?
❤️ Which are the latest Classic Games similar to Super Mario Bros.?
📽️ Which are the most viewed videos and gameplays for Super Mario Bros.?