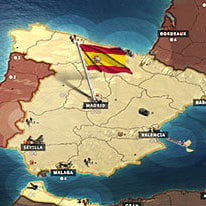 Call of War
-
645,646 Plays
How to play Call of War?
The 2nd World War: Tank clashes, Naval battles, Air combat. In Call of War you rewrite the course of history!
Take over the control of one of the mighty nations during the times of World War 2. Conquer provinces, forge alliances and build up your economy. Research top secret weapons of World War 2 and become the one true superpower!
How to play Call of War?
The game is based on a multiplayer mode in which several players fight or team up to win a game. To win you will have to take as many provinces as possible to score points. The player who has the most points or reaches the limit will be the winner of the game. The troops you will have at your disposal will depend on the map you play and the weather, which will add some difficulty to each game. The game works with a system of rounds, and in each one the player will have 4 options: Newspaper, Diplomacy, Research Branch, and Coalition. Within each one you will have options to make your country a power in the game.
How to improve in Call of War?
Expand your territory fast. At the beginning of the game you'll have everything you need at hand, but once you're settled and fortified, set out to conquer adjacent terrain and create some construction. Be proactive, buildings can take literally days to develop, so plan ahead and think about what you are going to do and how long it will take. Research as many units as you can. There will be many at your disposal, the more you have unlocked, the easier it will be to adapt to any situation. Don't lose the overview of your territory. Use the Provinces button to have all this information at the click of a button. Take advantage of market offers, you can save a lot of resources. Use espionage to explore areas outside your control. And finally, know your units. The more you know about them, the better you will know their strengths and weaknesses.
Who developed Call of War?
Call of War is a real-time strategy game developed by the German company Bytro Labs, which was first released to the public in 2014. Since then, until today 2016, it remains Bytro's most successful project.
Minitorneos, chat & make friends
🕹️ Which games are similar to Call of War?
❤️ Which are the latest Action Games similar to Call of War?
📽️ Which are the most viewed videos and gameplays for Call of War?