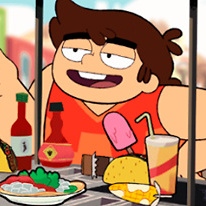 Victor and Valentino: Taco Time
1,855 Plays
How to play Victor and Valentino: Taco Time?
Victor and Valentino: Taco Time is a simple and fun skill game based on one of the most beloved animated TV series of the moment. Are you a taco lover and can you run a successful street food business?
Then you've come to the right game! Take over a taco stand and deliver as many orders in time as you can to your customers without making mistakes and taking as little time as possible so that they won't be angry and upset with you. Get the highest score and enjoy working at what you love the most!