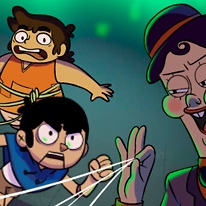 Victor and Valentino: Stretched Case
10,164 Plays
How to play Victor and Valentino: Stretched Case?
Victor and Valentino: Stretched Case is a fun adventure game based on the animated TV series of Victor and Valentino! Carefully guide these two brave brothers through the basement of a mysterious antique shop and help Victor, who has become a puppet, return to his real human body to face the evil shop owner named Chip.
Don't let your life end there and fight to reach the ladder that will take you to the surface! Avoid breaking the connection with your brother at all times or you will lose the game. Show your incredible reflexes and try to break the curse while avoiding falling into the hands of dangerous antiques that have taken on a life of their own. Good luck...