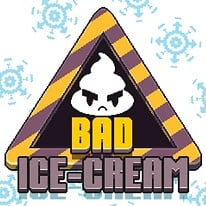 Bad Ice-Cream
7,778,252 Plays
How to play Bad Ice-Cream?
Choose your favorite ice cream flavor and start the game by collecting all the fruits in each level while dodging enemies by creating ice cube barriers. Game for one or two players.
What is the origin of Bad Ice Cream?
Bad Ice Cream game is one of the most celebrated creations of Nitrome, a London-based video game developer founded back in 2005. Although the company's initial intention was to market games for smartphones, its creations have also achieved enormous success on web portals. These are characterized by their endearing designs and classic animation, evoking the cartridges of systems such as Game Boy or the old NES. Besides, they usually provide their games with very catchy soundtracks.
Where can I play Bad Ice Cream for free?
The ice cream game, ice cream game, ice cream bad or bad ice-cream friv can be enjoyed quickly and completely free of charge on the portal Miniplay.com.
Choose between one or two players. Two people can play in unison on the same keyboard, making use of different button systems for control.
Choose your avatar among the three available flavors: vanilla, strawberry or chocolate ice cream.
Choose the level. You can unlock up to 40 different ones.
Play bad ice creams! You will have to avoid obstacles and enemies to get all the objects within the time limit. Thanks to the fire button, you can remove barriers or plant new ones.
Who is Bad Ice Cream for?
Bad Ice Cream friv is for all those who are looking for quick and entertaining games, for one or two players. And who don't want to have to deal with long tutorials or a complex or cumbersome learning system. Also for all those veterans who miss the classic systems and seek to recover the experience with a proposal that is new and at the same time familiar. It only takes a few minutes for anyone to learn to play Bad Ice Cream with a certain degree of fluency. On the other hand, the scoring system and the wide variety of levels will provide a challenge to those who want it.
What other Bad Ice Cream games can I play online for free at Miniplay?
You have several friv games created on the basis of Bad Ice Cream online, we also have Bad Ice Cream 2 and Bad Ice Cream 3.
PLAYER 1/2

DISPARAR P1

f

DISPARAR P2
Minitorneos, chat & make friends
🕹️ Which games are similar to Bad Ice-Cream?
❤️ Which are the latest Kids Games similar to Bad Ice-Cream?
📽️ Which are the most viewed videos and gameplays for Bad Ice-Cream?