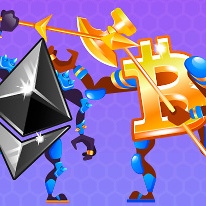 Crypto Battles
12,352 Plays
How to play Crypto Battles?
CryptoBattles is a PvP-style blockchain-based Play-To-Earn game in which players compete against each other to earn token rewards as they play.
Games are played via Binance Smart Chain across PC and mobile devices using the MetaMask app. In player vs. player battles, each player starts with 100 warriors: the goal is to defeat the enemy by capturing the opponent's bases with more units than the opponent.
How does the reward system work?
Before the battles, each player places a bet to start the quest for his opponent. Bets can be placed with any BEP20 token in fixed amounts of $5, $10, $20 or $50. With each victory, the player gets a x1.8 profit on the amount bet, or in other words, the initial bet and an extra profit of x0.8, plus a certain amount of tokens, in this case, for both players.
How to register and start betting?
First of all, it is necessary to select BSC on the website and in the player's wallet in MetaMask. After that you can register on the official site or log in with your game account.
After registration or login, you will access the CryptoBattles tutorial in your first game. After the introduction to the world of CryptoBattles, you will be able to choose your crypto-general and the amount of the bet; you can also choose bots or not as opponents. Once the opponent search is started, it cannot be reversed; be sure to prepare everything to your liking.
You will connect with an opponent with the same bet or with the bot you have selected.
How do you fight in CryptoBattles?
Each player has 100 warriors. The fights are divided into 3 stages with 7 available bases. The first stage has 3 bases, the second and third have 2 bases each. The goal of each player is to place more warriors on the base to capture it. The player who captures the most bases wins.
Other methods of winning tokens
CryptoBattles offers other ways to earn tokens beyond PvP combat through activities such as NFT trading, auctions, CryptoLands and guild activities. In addition, CryptoBattles Tokens (CBT) can also be obtained in Seasonal Tournaments. Thus, the best PvP players will get extra CBT that they can wager to receive more rewards.
CryptoBattles cryptographic philosophy
The goal of CryptoBattles is for players to regain control of their digital assets and adopt blockchain technology in their day-to-day lives. All for players to earn real rewards while playing, as well as creating a healthy community with concerns for the metaverse and cryptocurrencies.
Dive into the CryptoBattles crypto universe, bet your tokens and become the best PvP warrior to earn great rewards!

Gameplays
There are no gameplays yet
Minitorneos, chat & make friends
🕹️ Which games are similar to Crypto Battles?
❤️ Which are the latest Action Games similar to Crypto Battles?
🔥 Which are the most played games like Crypto Battles?