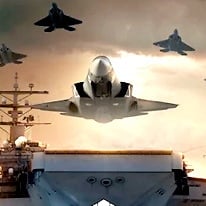 Gunship Battle: Crypto Conflict
77,437 Plays
How to play Gunship Battle: Crypto Conflict?
Gunship Battle: Crypto Conflict is a Play-To-Earn strategy game for PC and mobile iOS and Android based on the popular Gunship Battle franchise with millions of downloads worldwide.
In Gunship Battle: Crypto Conflict we fight with our battalions in strategic war games using Blockchain technology. Play, fight and win to get great benefits based on your hours of play and your victories.
What is Gunship Battle: Crypto Conflict about?
Gunship Battle: Crypto Conflict is a war game in which we lead our own army by sea and air against enemy armies through challenging strategy games.
In the near future, global warming has increased beyond all forecasts. Due to rising sea and ocean levels, mass migrations have occurred around the world, causing major international conflicts that may lead to a Third World War.
After the fall of the old world order, you are left with only one ship, its crew and a deserted island. Faced with the imminent nuclear threat from new world powers, you will have to gather your courage and start expanding your dominance by sea and air to protect the world from Armada, the new world threat, and seek global peace.
What war units does the game offer?
In Gunship Battle: Crypto Conflict we have three types of aircraft carriers and three models of combat fighters:
Aircraft carrier
Kuznetsov: Aircraft carrier designed to launch fighters from a jump ramp and carry a large amount of ammunition.
Isabel: Aircraft carrier with separate bridges for navigation and flight control with a range of up to 10,000 nautical miles.
Nimitz: Large nuclear-powered aircraft carrier capable of storing many jets and AFVs; however, its maintenance and upgrade cost is high.
Combat fighters
RF-M: Combat fighter with balanced anti-aircraft, anti-ship and anti-ground fire characteristics, although its speed is below average.
EF2000: Elite fighter capable of supersonic flight. It offers high mobility and guarantees superior performance in full flight.
Desert F-16 FF: Improved version of the F-16 FF model with larger fuel tanks and improved sensors and radar. Its firepower is also superior to the previous model.
What is the business model of the game?
Gunship Battle: Crypto Conflict bases its economy on the TITANIUM currency, the game's own currency. TITANIUM is the main resource required to access the game and complete any transaction, from upgrading aircraft to exchanging blueprints, as well as performing research and many other actions.
All players can acquire TITANIUM by completing daily missions or by extracting resources from different islands.
In addition, you will be able to exchange TITANIUM for MILICO, the game's NFT asset, and vice versa. MILICO is a cryptographic currency based on Blockchain that can be bought or exchanged without limitations.
And that is because MILICO is a token that connects TITANIUM to the real world. It has a clear and defined intrinsic value.
Join Gunship Battle: Crypto Conflict now and command war units of your own army to expand your domain and achieve world peace. Play, fight and win the victory to earn huge profits.

Gameplays
There are no gameplays yet
Minitorneos, chat & make friends
🕹️ Which games are similar to Gunship Battle: Crypto Conflict?
❤️ Which are the latest Action Games similar to Gunship Battle: Crypto Conflict?
🔥 Which are the most played games like Gunship Battle: Crypto Conflict?