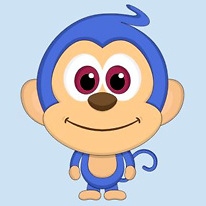 CryptomonKeys
16,994 Plays
How to play CryptomonKeys?
CryptomonKeys is a collectible card game based on NFT technology as part of the WAX blockchain ecosystem.
The goal of CryptomonKeys is to offer the user an ecosystem in which it is attractive to collect CryptomonKeys cards thanks to its detailed arts, different levels of rarity and the possibility to trade with the NFT assets of the game.
In addition, its creators have focused their efforts on creating an attractive community with an educational approach and a friendly atmosphere in which to feel supported by the community itself, all through the BANANO cryptocurrency.
What is a CryptomonKey?
Each CryptomonKey card is born as a NFT and is handcrafted by the project's art director and co-founder SoggyApplePie; new cards with unique designs and avatars will be released every week.
What is BANANO?
BANANO is the cryptocurrency used in the community of the same name, powered by DAG technology. The BANANO currency is very easy to use and is committed to free and fair distribution, gamification and crypto education and is used in thousands of daily transactions in blockchain ecosystems.
What are the differences between CryptomonKeys and other NFT cards?
Beyond the highly detailed illustrations of each CryptomonKeys, the main difference with other types of digital NFT cards is that CryptomonKeys are freely distributed. CryptomonKeys do not sell their cards, but instead create pieces of digital art and are delivered to as many users as possible through different types of releases.
Each CryptomonKey card is unique, with no variants compared to others. Each card is numbered and presents a level of rarity verifiable through its own indicator.
What does the rarity level of the CryptomonKeys mean?
The nice thing about NFTs is that copies can be made up to a certain maximum number. Thus, a legendary card is created up to a maximum of 19 times, an epic 91 times, a rare 423 times and so on, up to the 9,119 units of the common ones.
Each card, being an NFT, is unique and has its exact creation number digitally engraved. Each NFT has its active ID and presents its own traceable history of previous owners, all via blockchain.
How are CryptomonKeys cards obtained?
CryptomonKeys cards are distributed freely and for free through many different ways, such as sweepstakes, airdrops, events and contests; other times they are delivered through Discord or other CryptomonKeys social channels.
CryptomonKeys can also be obtained through two different methods:
Cards can be purchased from others willing to sell them or traded through AtomicHub.
With each new release, a defined number of cards are reserved for future events and are locked for 6 months, making it possible to catch one of these NFTs when they are given away in the future.
What are CryptomonKeys for?
CryptomonKeys are digital collectible cards. Each user can collect them and keep them or exchange them with other users. In addition, they can be used to win BANANO cryptocurrencies in the MonkeySlots game.
They are also ideal for getting started in the NFT market and thus introducing new users. In terms of charity, their creators are committed to donating 19% of all transactions to charity.
Join the CryptomonKeys ecosystem now and get your hands on the rarest and highest valued NFT cards! Collect CryptomonKeys, trade them for others and take your first steps in blockchain transactions with total security.

Gameplays
There are no gameplays yet
Minitorneos, chat & make friends
🕹️ Which games are similar to CryptomonKeys?
❤️ Which are the latest Board Games similar to CryptomonKeys?
🔥 Which are the most played games like CryptomonKeys?