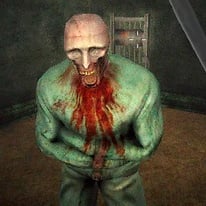 Shoot Your Nightmare: The Beginning
5,519 Plays
How to play Shoot Your Nightmare: The Beginning?
Shoot Your Nightmare the Beginning is a terrifying first-person survival horror game in which you must protect the protagonist of your story from almost certain death as he wanders alone through a dark forest full of dangers and monstrous creatures.
Cautiously explore every corner, protect your back as much as possible thanks to powerful firearms and sharp swords, go deep into abandoned buildings and find before it's too late all the alarm clocks lost in the game that will be the only ones able to wake you up from your nightmare! In the meantime, try to kill everything that moves and watch over your life at all times - good luck!
MOVE

AIM

ATTACK

l

BLOQUEAR

g

GRANADAS

f

RECOGER

JUMP

RUN