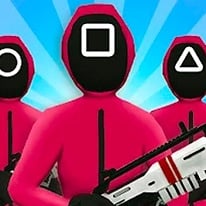 Squid Game
2,623,029 Plays
How to play Squid Game?
Have you seen The Squid Game yet? Now you can play Squid Game (The Squid Game, Netflix series) in your web browser without dying trying.
The game is so named because players must draw different geometric shapes (circle, square or triangle) on the ground, which together appear to form a squid. If an attacker manages to get through the defender and into the squid's head, the squid is proclaimed the winner of the game.
These are all the trials of the Squid Game:
Red light, green light: Be fast and stealthy! Green light, run for your life! Red light, freeze and survive!
Rope: Get a good grip on the rope and pull with all your might to make the opposing team fall.
Marbles: Strain the marbles into the hole and keep your opponent's marbles for yourself.
Sugar cookies: Extract the figure of the cookie with a needle without breaking it.
The glass bridge: You have to jump left right, remembering the sequence of lights that have been turned on.

◯△▢

Minitorneos, chat & make friends
🕹️ Which games are similar to Squid Game?
❤️ Which are the latest Action Games similar to Squid Game?
📽️ Which are the most viewed videos and gameplays for Squid Game?