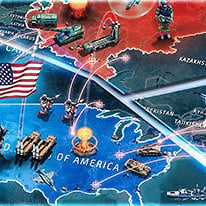 Conflict of Nations
-
274,214 Plays
How to play Conflict of Nations?
Conflict of Nations is a free-to-play strategy game in which you wage real-time global warfare against dozens of players in campaigns that can last days or even weeks.
Control your military units of one of the world's leading nations and start performing random missions and political maneuvers of military expansion, economic development, technological research, and foreign diplomacy.
Develop nuclear weapons and military units with unique specialties to get the most out of this war game where you will have to test your diplomacy skills at critical moments.
How to play Conflict of Nations
Conflict of Nations is developed as a 3D landscape game with a unique gameplay experience so it can be played on all types of computers and browsers although a minimum of Intel HD Graphics and Intel Core Duo processor is recommended.
Enter your name, password and email address, choose your nation and start playing, the tutorial will take you through the necessary steps to get to grips with the controls of the game. Everything is based on knowing all the options you have and how to face each of the challenges that happen in the game as you advance and fight.
There are many controls and menus but with the initial tutorial and with a little patience you will be able to take control of this magnificent strategy game in which you choose the destiny of the world.
At the start, the player has two options: join a game or create a new one.
First, you have to choose one of the 26 playable countries. If you choose an already created game, you will be able to see the situation of the countries and their relations. The game map is the current geopolitical map, and those countries that are not controlled by players, are controlled by the game.
What to do at the beginning?
The first thing is which country to represent, and this becomes very important as it determines how many cities you have and how close or far you are from potential allies and rivals.
Once you choose a nation you have to take care of the cities of the chosen country: You have to create industries to produce resources with which to construct buildings and build your army, research to improve your units and gain access to new technologies in the different branches of the technology tree.
Since it is mainly a network game, that is to say, in connection with other players, the diplomatic relations are one of the strong points since you will have to negotiate not with an AI player, but with other players of flesh and blood, so if another player wants to contact you to establish an alliance, it is up to you if you want to go ahead, ask for some kind of gift or if you prefer to stay as an enemy.
As in all strategy games we have spies with whom we can gather information about other players in order to make decisions about whether to ally or not. In addition, spies can also sabotage enemy cities and reduce troop morale.
With twenty-five players competing this management game offers multiple possibilities. It is a game with a lot to offer if you like strategy requiring relatively little attention because while events occur you don't have to be aware of what is constantly happening.
Another of the initial points of this game is that you can get gold to unlock some features of the game itself before, but really investment or purchase of credits does not guarantee victory in this fantastic strategy game.
Minitorneos, chat & make friends
🕹️ Which games are similar to Conflict of Nations?
❤️ Which are the latest Action Games similar to Conflict of Nations?
🔥 Which are the most played games like Conflict of Nations?