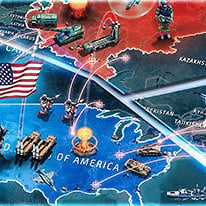 Conflict of Nations
-
55,459 Plays
How to play Conflict of Nations?
Conflict of Nations is a free-to-play browser-based strategy game, where modern global warfare is waged in real-time against dozens of other players, in campaigns spanning days or even weeks.
You are in control of the armed forces of one of the leading nations of this world, responsible for its military expansion, economic development, technological research and foreign diplomacy.