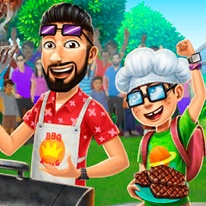 Virtual Families Cook Off
26,621 Plays
How to play Virtual Families Cook Off?
Fire up the grill, season the meat to your liking, and become a great chef while enjoying a great family Sunday with Virtual Families Cook Off! Manage your time to get all orders completed on time while trying not to overdo the meat and making the sweetest, healthiest smoothies to go with the meal.
Everything you serve should be delicious! Pizzas, sushi, burger cupcakes and lots of other dishes are waiting for you to test your gift as a cook. Perfect your cooking skills while having a great time on a sunny day in the garden. Good luck...