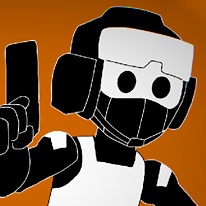 Rushdown Rivals Reloaded
2,967 Plays
How to play Rushdown Rivals Reloaded?
Rushdown Rivals Reloaded is a unique action-packed arcade shooter and adventure game in which you must help the soldier protagonist fight his way through the bustling and dangerous streets of a city overrun by terrorists.
Face with patience and determination waves of robotic enemies armed to the teeth and inspired by classic games such as Time Crisis and House of the Dead, and enjoy testing your aim by shooting and hunting them all down in record time. Are you ready to live an experience full of excitement only suitable for the bravest soldiers?
Who created Rushdown Rivals Reloaded?
This game was developed by Spagato, Keith Garces and Dieswyx.
Made to celebrate Pico Day 2023 with our unique version of a rail shooter! This experimental project allowed us to further develop the world we created with a new perspective. Many thanks to Dieswyx for providing amazing music for the game!

Minitorneos, chat & make friends
🕹️ Which games are similar to Rushdown Rivals Reloaded?
❤️ Which are the latest Action Games similar to Rushdown Rivals Reloaded?
🔥 Which are the most played games like Rushdown Rivals Reloaded?