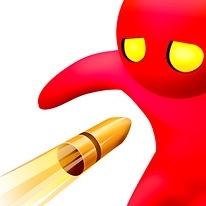 Bullet Man 3D
17,842 Plays
How to play Bullet Man 3D?
Are you ready for the action? Use a powerful weapon to perfect your accuracy as a shooter and shoot as many enemies as you can on each level to overcome it successfully. The complexity of each level will increase due to the countless new obstacles that will be encountered as the game progresses. Aim accurately every time you pull the trigger and shoot while perfectly controlling the path your bullet must take to finish off all your enemies - reaching your targets will become increasingly difficult! So be patient, take a deep breath as you fire, and manage to annihilate 100% of your enemies in one shot!
Features:
Enjoy incredible 3D graphics that will make you live a unique experience.
Control your shots with precision.
Annihilate as many enemies as possible.
Use a single shot to win.
Buy many upgrades with the money you earn from each kill.
Who created Bullet Man 3D?
This exciting shooter game has been developed by the Crazy Labs company.
Minitorneos, chat & make friends
🕹️ Which games are similar to Bullet Man 3D?
❤️ Which are the latest Action Games similar to Bullet Man 3D?
🔥 Which are the most played games like Bullet Man 3D?