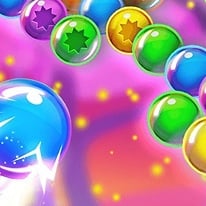 Bubble Shooter: With Friends
5,221 Plays
How to play Bubble Shooter: With Friends?
Have fun in Bubble Shooter: With Friends, an exciting take on Taito's classic Puzzle Bobble! With improved graphics and tons of power ups and extras to make your gameplay easier, it's time to put your wits and reflexes to the test. Aim well and launch the bubbles with the help of your powerful cannon to combine a minimum of three of the same color and make them disappear until not a single one is left on the board.
Aim well and send the bubbles in the right direction so you don't waste a single second of your time - the longer you take to complete the level, the faster the bubbles you don't clear will fall! Will you be able to clear the screen in record time? If you feel stuck at any point, you can wisely set off a big bomb that will clear all the bubbles in one fell swoop - relax and enjoy hundreds of levels with no time limit!