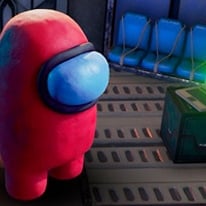 Who is Imposter
-
1,156,756 Plays
How to play Who is Imposter?
Enjoy Who is Imposter, a fan-made stealth adventure game created by fans of the famous and acclaimed Among Us, this time with much more detailed graphics! Take on the role of an impostor who has infiltrated a crew of astronauts on a large spaceship and roam the corridors as you prevent the characters from fixing everything you've sabotaged with your bare hands by killing them one by one without getting caught.
Will you be able to complete your mission and prevent the ship from staying on course and survive all your sabotage? It sounds simple, but any false move, or any kill without ejecting your victims, could mean your life is on the line! Immerse yourself in a unique adventure with colorful graphics and prove that you are the king of stealth. Good luck...

Minitorneos, chat & make friends
🕹️ Which games are similar to Who is Imposter?
❤️ Which are the latest Action Games similar to Who is Imposter?
🔥 Which are the most played games like Who is Imposter?