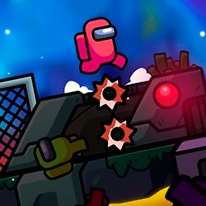 Among us The imposter
23,712 Plays
How to play Among us The imposter?
Have fun with Among Us The Imposter, a fun platform and action game inspired by the famous game Among Us. Step into the shoes of one of the game's cute protagonists, dress up in your colorful astronaut suit and get ready to start a unique adventure where you will have the chance to prove that you are capable of completing each level safely!
As the game progresses, you'll have to face dangerous and sharp weapons, huge obstacles and dozens of dangers that will make it difficult for you to successfully complete your mission - don't let anything stop you! Test your incredible skills and reflexes by always jumping at the right time and sliding when necessary - good luck!