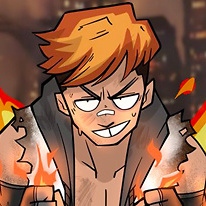 Underground Warriors
12,666 Plays
How to play Underground Warriors?
Underground Warriors is a Play-To-Earn game based on the blockchain type called Lamden in which characters fight in street fights for money and fame. Players are rewarded with tokens, the so-called Warrior Points, for each victory.
Each Underground Warriors fighter represents a unique NFT, capable of upgrading and evolving along with the blockchain system, adding value to the digital asset based on play time. The more hours of gameplay, the more value each NFT used in the game will have.
On the other hand, there are other NFT assets linked to the development of the game, such as the so-called Evolution Crystals. These items are obtained by playing and completing quests; moreover, this type of NFT can be used, bought or sold to other players.
Is Underground Warriors safe?
A game as dynamic as Underground Warriors needs an infrastructure to match, offered by the Lamden type of blockchain, which allows a quick reading of the different determining factors that make up the game: speed, low maintenance cost and 100% secure transactions.
Underground Warriors elemental characters
Underground Warriors offers a total of 6 basic characters, each with their own characteristics:
Blaze: Fire element.
Raindrop: Water element
Winry: Wind element
Sabrina: Lightning element
Boulder: Earth element
Hebi: Element of poison
In addition to these basic fighters, there will be other legendary fighters that will appear during the development of the Underground Warriors world.
What gameplay mechanics does Underground Warriors offer?
Each fighter in Underground Warriors controls 1 element with 3 unique abilities to defeat their opponents. Each element has advantages and disadvantages against the opponent's elements.
Water > Fire > Earth > Wind > Poison > Lightning > Water
During the fights each fighter has 6 skill points with the possibility to regenerate 1 point every two turns.
The player can have up to 4 active fighters in the character selection screen, and can also activate and deactivate characters from the control room.
Fighter Stats
The stats for each NFT fighter are as follows:
Element
Tier (1 to 5 stars)
Level
HP (health points)
Defense
Damage
Critical Hit
Evasion
Life regeneration or extended damage per turn, depending on the fighter.
In addition, each element adds a different effect to the above stats:
Fire: Increases attack points
Water: Increases life regeneration points and improves stamina
Wind: Increases evasion points and improves chance of not taking damage
Lightning: Increase critical hit points and critical damage
Earth: Increases health and defense points.
Poison: Increased hit points and health regeneration
How do I get rewards?
With each victory your fighter will receive EXP (experience). By completing a certain EXP level, the fighter will level up.
To get WP you will have to:
Winning fights
Completing battle pass missions (obtained separately)
Farmeando liquidity points (LP)
Selling characters and items in the Black Market
Don't hesitate and dive into the competitive world of Underground Warriors, get your characters, upgrade them and fight to win great rewards in the form of real money. Fight and win!
How do the crystals in Underground Warriors work?
The use of crystals improves the stats of fighters at any level. With level 10 and 5 crystals of the same type on the same fighter, it is possible to upgrade to tier 1. To upgrade, however, it is necessary to have elemental crystals and a certain amount of WP. The chance of receiving elemental crystals is 5%, with 2% for rare crystals.
How to participate in the competitive mode of Underground Warriors?
When you reach level 12, you will be able to participate in PvP battles against other players, as well as access tournaments and special events that will allow you to get more rewards. To participate in tournaments you will need 1 Tournament Ticket (consumable). Participating in combat arenas will earn you WP and ranking points. At the end of each season, the top 5 finishers will receive special rewards - fight to be in the top 5!
How does the Underground Warriors Black Market work?
The Underground Warriors Black Market is the place to sell items and buy items from other players. In addition, there are 3-day auctions organized by the Black Market itself, where standard characters are offered for 500 WP and up. Transactions consume stamps (TAU), while the Black Market keeps 15% of the transactions.
Gameplays
There are no gameplays yet
Minitorneos, chat & make friends
🕹️ Which games are similar to Underground Warriors?
❤️ Which are the latest Action Games similar to Underground Warriors?
🔥 Which are the most played games like Underground Warriors?