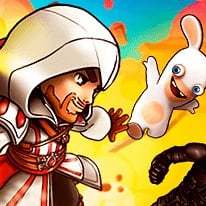 Ubisoft All-Star Blast!
-
19,553 Plays
How to play Ubisoft All-Star Blast!?
Try Ubisoft All-Star Blast! BETA access and enjoy playing with Ubisoft's legendary heroes! Our favorite characters are getting ready for a momentous battle and are you ready for an epic adventure? The protagonists of Far cry, Assasins Creed, Rabbids, Rayman, Tom Clancy's Splinter Cell and many more await you in Minigames ready to get your adrenaline pumping.
Immerse yourself in the endless arenas of this haunting and thrilling Battle Royale as you battle against 99 other players in a variety of detailed game modes. Each victory earns you enough profit to unlock new, more powerful and destructive characters. Inspired by the classic Bomberman game, move around the stage as you place bombs at strategic points on the map to annihilate your opponents with the least amount of effort. Can you become the last survivor?
Who created Ubisoft All-Star Blast!
This game was developed by Nano Ubisoft.