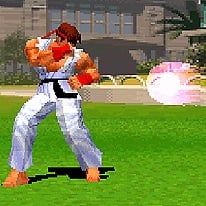 Street Fighter EX Plus Alpha
43,318 Plays
How to play Street Fighter EX Plus Alpha?
The release of Virtua Fighter was a revolution in the world of fighting games. As in other genres, there was an adaptation to the third dimension that caused the approaches and gameplay of the titles to suffer great changes, in some cases exponential improvements.
So it was Street Fighter 's turn to try that third dimension! The main new feature of this Street Fighter EX Plus Alpha, compared to Street Fighter classics, is that we can cancel specials in Super Combos, or even a Super Combo in another one.
Enjoy classic characters like Chun Li, Dhalsim, Guile, Ken, Ryu, Sakura, Bison, Zangief, Akuma, or Evil Ryu, as well as new characters: Allen Snider, Blair Dame, Cracker Jack, Darun Mister, Doctrine Dark, Hokuto, Kairi, Pullum Purna, Skullomania, Cycloid Beta, Cycloid Gamma, Garuda or Evil Hokuto

MOVE

SELECT

START

z

x

a

s

q

e

GOLPES

r

L2

t

R2