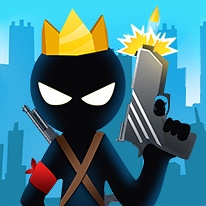 Stickman Battle Royale
19,019 Plays
How to play Stickman Battle Royale?
Stickman Battle Royale is a thrilling action-survival game in which you will have to accompany the main stickman in a unique adventure in the middle of a big city. Explore every corner of a large city and go in search of ammunition, money and new weapons with which to protect your life from enemy attacks.
Protect your back at all times and stay alert when crossing the roads to avoid being run over or shot in the head by an unfortunate carelessness. Stay away from the dangerous red zone and survive as long as you can in this terrible nightmare. Have fun!