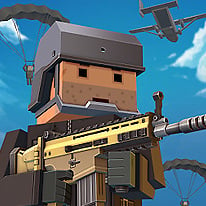 Battle Royale
-
766,223 Plays
How to play Battle Royale?
Enjoy this infamous game genre from your browser! Try to be the last player standing -- jump from the moving plane with minimum equipment, start looking for weapons, get rid of your rivals and look for a safe area before the map becomes smaller!
How to play Battle Royale?
In this Battle Royale game you will be able to create a custom game and select the number of bots you want to face. You will start in the hold of an airplane from where you will have to jump by pressing "F" to the combat zone. Once on the ground, your mission will be to find a weapon and start searching for your enemies. Use the keyboard cross and mouse to move your character and aim. Jump over obstacles by pressing "Space". To pick up weapons and open doors press "F". During the game you can switch weapons by pressing "V", access the map by pressing "M" and enter the inventory by pressing "TAB".
What is the origin of the Battle Royale genre?
It is a multiplayer genre in which the winner is the last player or team standing. It mixes survival mechanics, exploration and looting of items. The name and inspiration for the genre comes from the 2000 Japanese movie "Battle Royale" and the novel it is based on. In this movie, once a year, a class from a school in Japan is chosen and sent to a battlefield to fight each other until only one is left standing.
Who developed Battle Royale?
This game is developed by Gameflare
MOVE

AIM

SHOOT

JUMP

f

INTERACTUAR

v

CAMBIAR

tab

INVENTARIO

m

MAPA
Minitorneos, chat & make friends
🕹️ Which games are similar to Battle Royale?
❤️ Which are the latest Action Games similar to Battle Royale?
📽️ Which are the most viewed videos and gameplays for Battle Royale?