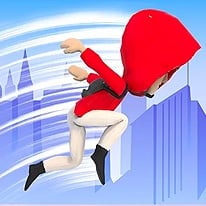 Parkour Mania
3,684 Plays
How to play Parkour Mania?
Ready to enjoy your favorite sport with Parkour Mania? The big city is full of obstacles, making it perfect for parkour lovers. It's time to put your amazing physical skills to the test as you run at full speed and perform incredible tricks through a stunning 3D environment filled with buildings, walls, and a multitude of obstacles.
Once you've thoroughly practiced your moves, you'll have the chance to enter a thrilling race to prove who is the best of all the participants. Don't give in to the dangers along the way, overtake your opponents without looking back and try not to fall into the void as you try to reach the finish line in first place. Good luck!
SELECT

MOVERTE/DESPLAZARTE