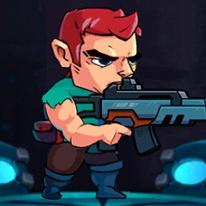 Jungle Hero 2
4,796 Plays
How to play Jungle Hero 2?
Are you ready to overcome a complicated battle for survival in Jungle Hero 2 as you slay dozens of dangerous monsters? Become the hero of the jungle by jumping, fighting and dodging the onslaught of dangerous creatures - will you be skilled enough to make it through without taking any damage?
Jump from platform to platform, climb vines and protect your back from the powerful enemy attacks that await you in each level. As the game progresses and as you kill some of your opponents, you'll be able to unlock new screens and invest your money to buy new and better weapons. Are you ready for some fun? Run from one side of the stage to the other and don't give up in the face of adversity!
MOVE

AIM

SHOOT

q

ESCUDO

e

LANZAR GRANADA

JUMP