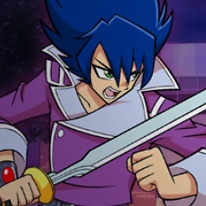 Exchange Student Zero: Battle Day Brawl
3,137 Plays
How to play Exchange Student Zero: Battle Day Brawl?
Exchange Student Zero: Battle Day Brawl is an exciting fighting game from Cartoon Network where you can test your samurai skills and choose your actions wisely to help Hiro become the hero of his school in this fighting game!
Think about whether it's the right time to defend yourself against a possible attack or to strike a heavy blow with your sharp sword against your opponent - you'll have to defend the honor of your school if you don't want to get expelled for misbehaving! Have a great time in this fun turn-based fighting game as you quickly choose either attack or defense actions before the countdown runs out. If you choose nothing, you'll perform a random action! Don't give in to the dangers along the way and bring out all your inner fury if you want to survive the attacks of your dangerous opponents - good luck!