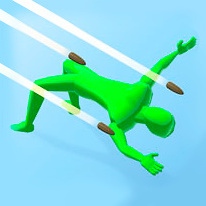 Dodge Action 3d
9,610 Plays
How to play Dodge Action 3d?
Test your incredible responsiveness and reflexes with Dodge Action 3D! You've been chosen to annihilate your enemies one by one while protecting your life from their gunshots. But unfortunately for the bad guys, you're a master of speed and not even a bullet can touch you!
Use your incredible gift to emerge victorious from a tough fight, watch your opponents' actions and predict all attacks in advance before it's too late for your life. Plus, you'll have the ability to fire and control the direction of the bullets as you please - managing time and space and overcoming challenges that are almost impossible for the human eye to see!
Minitorneos, chat & make friends
🕹️ Which games are similar to Dodge Action 3d?
❤️ Which are the latest Action Games similar to Dodge Action 3d?
🔥 Which are the most played games like Dodge Action 3d?