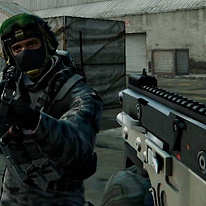 Call to Action
-
27,737 Plays
How to play Call to Action?
Call to Action is a disturbing and aggressive multiplayer game not suitable for everyone! Are you ready for some fun? Only the bravest players will have a chance to survive this exciting adventure.
Enjoy stunning hyper-realistic graphics as you take on powerful opponents thanks to a large arsenal equipped with the latest weapon technology. Explore every corner of a desolate mountain environment under the harshest weather conditions, and enter an abandoned secret base invaded by dangerous and heavily armed soldiers. Protect your back as you explore the world around you by taking care of your every step, and complete your mission before your time runs out. Good luck, soldier!
MOVE

JUMP

AIM

SHOOT

r

RELOAD

b

BUY WEAPONS