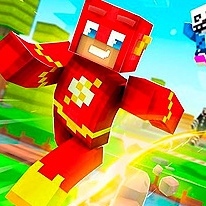 Craft Subway Runner Boy
47,569 Plays
How to play Craft Subway Surfer?
Have fun with this crazy racing game called Craft Subway Surfer! Inspired by the graphics of the classic and beloved Minecraft this game will make the fun come to stay. Race through city streets and some obstacle-filled tunnels as you try to catch every coin in your path to get the highest score possible.
Unlock up to 27 new skins for your character and show off your amazing reflexes as a professional athlete. Chaos will take over the game as you level up and dozens of new obstacles will break in your path making it really hard! Drive through ramps, all kinds of abandoned vehicles in the middle of the road, trucks and some fences while managing to escape alive and avoiding death from a single collision.
Who created Craft Subway Surfer?
This game has been developed by 6Woo
MOVERTE/SALTAR/DESLIZARTE