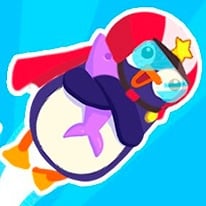 Mr Bouncemasters 2
14,764 Plays
How to play Bouncemasters 2?
Throw this little penguin as far as you can at Mr BounceMaster 2! Help a huge bear armed with a big baseball bat launch his friend at full speed as he dodges obstacles in his path and collects lots of coins.
Bounce your friends off seals to help you fly higher, collect hundreds of coins to buy some upgrades and get to your loved one before it's too late! Control the polar bear's strength to give you the boost, buy new items to enhance your experience and enjoy the thrill in this fun snowy environment. How far will you be able to go?