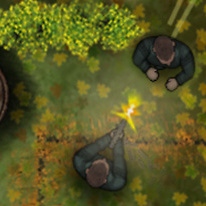 Battlegrounds2D.io
-
5,510 Plays
Battlegrounds2D.io details
Enjoy an exciting multiplayer battle royale game full of action with Battlegrounds2D.io! The goal of the game is to make you the last man standing. Move through a hostile environment full of traps and obstacles and collect all kinds of weapons, ammunition, armor, medical supplies and kits to facilitate your mission.
Test your amazing reflexes as you protect your back and kill other players before they take your life - avoid moving out of the danger zone and prepare to survive the toughest battle in history!
What qualities stand out in Battlegrounds2D?
Enjoy incredible graphics with a unique aerial view.
Protect your life at all times.
Collect weapons, kits and armor to make your mission easier.
Target and annihilate your enemies to claim victory.
Who created Battlegrounds2D.io?
This game has been developed by Karge Software.
MOVE

GOLPEAR/DISPARAR

f

RECOGER/USAR

1

-

4

CAMBIAR DE ARMAS

r

RELOAD

7

USAR VENDAJE

8

BOTIQUÍN

9

BEBER

i

INVENTARIO

m

MAPA