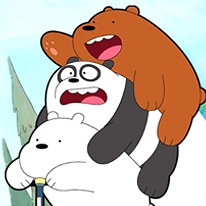 We Bare Bears Scooter Streamers
34,105 Plays
How to play We Bare Bears Scooter Streamers?
Enjoy a fun racing game on a small 2D scooter with We Bare Bears: Scooter Streamers! Inspired by the fun cartoon series We Bare Bears you will have the opportunity to live an exciting experience surrounded by your favorite characters.
Race through different levels, perform incredible aerial acrobatics, jump from one platform to another without falling off or hitting huge walls and get enough points to move on to the next level and unlock some upgrades. Are you ready to show off your agility behind the wheel of a small scooter? Take our beloved bears to the finish line safely and have a great time!