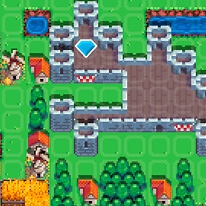 Tetris Kingdom
4,683 Plays
How to play Tetris Kingdom?
Spread a small island across the vast ocean in Tetris Kingdom as you build all kinds of land, crops, grass and even some houses or walls with Tetris pieces in lots of different shapes!
As your land grows bigger and bigger, the pieces will fall faster and faster, making it harder and harder to manage and place them where you want them. Extract the natural resources around you, try to satisfy the growing demand of your kingdom and its villagers, don't leave a single gap free and collect stars and hearts that will increase your life expectancy. Will you manage to get to the top of the leaderboard? Good luck...
Who created Tetris Kingdom?
This game was developed by Joan Sol ROO.