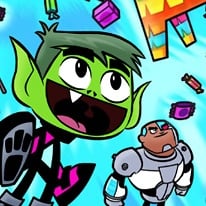 Teen Titans Go! Smashy Pinata
13,425 Plays
How to play Teen Titans Go Smashy Pinata?
Teen Titans Go! Smashy Pinata brings you a fun and exciting adventure! This time, you must accompany our beloved Teen Titans superheroes on a sweet journey. A piñata in the middle of the stage is ready for you to hit it the number of times necessary to get all the gold inside.
Beat your own record and unlock new candy as you get the money! Your mission is really simple. Keep hitting the pinata as you climb to the top of the screen and help the monkey jump from wall to wall skillfully to accomplish your mission. Are you ready to test your incredible skills? Have fun!