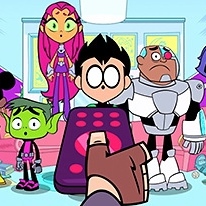 Teen Titans Go Zapping Run
42,525 Plays
How to play Teen Titans Go Zapping Run?
Have fun in Teen Titans Go! Zapping Run with your favorite characters as you go through fun obstacle courses where you collect lots of coins, power ups of speed and extra lives. Our brave friends have been sucked into a television and now wander aimlessly through its channels. What evil enemy could have committed such an atrocity?
Test your skills and prepare to save the world once again from dangerous enemies willing to destroy it! Dozens of dangerous obstacles will prevent you from advancing normally, so you'll have to move quickly from one place to another to protect your life and reach the goal safely. Will you be able to find a way to escape this strange nightmare?