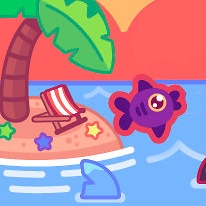 Super Raft Boat
13,964 Plays
How to play Super Raft Boat?
The universal flood has arrived and it has no intention of stopping! Are you ready to survive hundreds of perils in Super Raft Boat? Every corner of the world you knew is gone, and it seems there's not an inch of dry land left - it's time to build a weatherproof raft to try and survive this terrifying adventure!
This terrible environmental misfortune has left the sea creatures and birds scared and hungry - can you survive their dangerous attacks? Fire your gun fearlessly as you protect your raft from destruction and slowly expand the surface to protect your life - try to find a piece of land or an island where you can start a new life!
What qualities does Super Raft Boat have to offer?
Build and expand your raft to gain an advantage over the sea creatures.
Discover 4 different oceans.
Choose from 3 different characters with unique abilities and weapons.
Unlock new weapons for your character.
Enjoy a final fight against dangerous bosses that will scare even the most experienced sailors.
Who created Super Raft Boat?
This game was developed by Jason Gertner, Carson Kompon, Yukon Wainczak, Jennifer Kindl.
Minitorneos, chat & make friends
🕹️ Which games are similar to Super Raft Boat?
❤️ Which are the latest Action Games similar to Super Raft Boat?
🔥 Which are the most played games like Super Raft Boat?