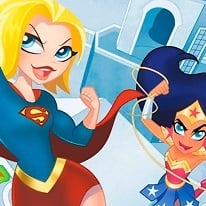 Super Hero Girls: Food Fight
36,147 Plays
How to play Super Hero Girls: Food Fight?
Enjoy Super Hero Girls: Food Fight with your favorite superheroes in an exciting adventure where you fight for victory with any food you can throw. Avoid the attacks of your opponents thanks to your amazing agility and aim and shoot at the right time.
Take control of the world's most incredible superheoins and prove your strength and courage by engaging in fierce battles for survival. Are you ready to show what you can do? Beat the bad guys with candy, pizza, pies, cakes and any other food you can think of and dodge their attacks before it's too late for you - this fun adventure will not leave you indifferent! Good luck...