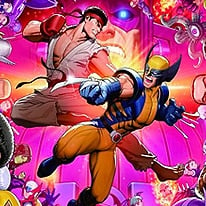 Marvel Super Heroes vs Street Fighter
11,893 Plays
How to play Marvel Super Heroes vs Street Fighter?
Marvel Super Heroes vs. Street Fighter sequel to X-Men vs. Street Fighter and the second game in the Marvel and Capcom crossover saga developed in 1997! Are you a great lover of classic wrestling games, then get ready to put your warrior skills to the test and enjoy landing hundreds of blows!
Select your favorite game mode and your favorite player from dozens of awesome options like; Captain America, Cyclops, Hulk, Wolverine, Spiderman, Chun Li, Dhalsim, Ken, or M. Bison and get ready to enjoy the most incredible melee fights you can dream of. Now you will have the opportunity to summon your battle partner to perform some special attacks, without the need to swap your character for another one! Good luck...
MOVE

z

x

KICKS

a

s

PUÑO

q

PUÑO ESPECIAL

r

SALTO ESPECIAL

t

PATADA ESPECIAL