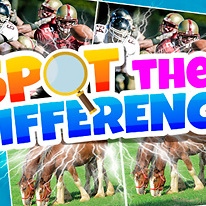 Spot the Difference Online
4,806 Plays
How to play Spot the Difference Online?
Test your incredible vision and good reflexes and get ready for fun with Spot the Difference! Will you become the best detective in the world? Squeeze your brain and manage to detect the 3 differences between the two images in each level before your time runs out.
It seems easy but not everyone is able to solve it without help! You'll only have 1 minute or you'll lose the game. Enjoy the most original and fun images while having a great time. Put all your attention to observe every detail and have fun!