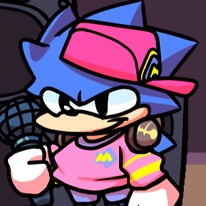 Sonic's Fridays Funkin'
36,269 Plays
How to play Sonic's Fridays Funkin'?
Are you ready to feel the rhythm in your skin once again with our beloved Sonic in Sonic's Friday's Funkin? Enjoy a unique mod that will delight fans of our popular hedgehog! This time, Sonic appears as the main character replacing Boyfriend and dressed in a pink hat, white gloves, a pretty pink shirt and purple shoes. Are you ready for a completely magical Friday night?
Pass this ordeal of love by proving to your beloved Tails that you'll do almost anything to keep him by your side! Put your superb sense of rhythm to the test as you hit the arrows at just the right time to create a tune worthy of the king of the dance floor. Don't give in to the insane speed of the notes in each level and defend your throne as the best musician on earth. Good luck...
Who created Sonic's Friday's Funkin?
This game was developed by Kodomodachi.