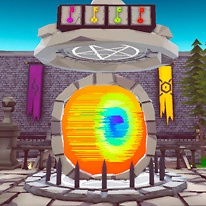 Shy Eye Labyrinth: Prototype
2,072 Plays
How to play Shy Eye Labyrinth: Prototype?
Shy Eye Labyrinth: Prototype is a fast-paced 3D platformer set in a mysterious and sinister labyrinth. Surrounded by traps and strange objects, you must go through every door and dark corner that crosses your path to survive this strange nightmare.
Your mission seems simple enough, you must find four hidden colored keys to unlock the exit door! Each key is hidden in a unique level and only by solving some puzzles, you will get the necessary keys to unlock new rooms and paths. Only the smartest and most experienced players will have the chance to solve all the puzzles to discover the secrets hidden inside! Will you be able to find all the keys? Good luck!
Who created Shy Eye Labyrinth: Prototype?
This game is developed by Gametoria.
MOVE

AIM

SELECT

f

INTERACTUAR

JUMP

RUN