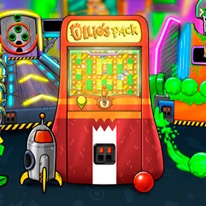 Nickelodeon Arcade
8,145 Plays
How to play Nickelodeon Arcade?
Get ready to enjoy Nickelodeon Arcade with the characters from your favorite cartoon series in an amazing arcade game now adapted to your computer. Test your patience and throw pies or burgers directly at your opponents' heads to claim the final victory!
Relive the 1990s in a fun-filled arcade and enjoy trying out the world's most exclusive arcade machines - select your favourite game and test your unique skills! Only the most persistent players will be able to win in all the games. Good luck!