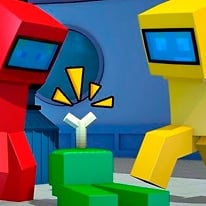 Mod Among us for Minecraft
83,298 Plays
How to play Mod Among us for Minecraft?
Enjoy Mod Among Us for Minecraft and get ready to build the world of your dreams! Inspired by the famous Minecraft and Among Us, this game will delight even the most experienced players! Remove blocks, select your favorite materials from inventory, and show off your incredible creativity as a builder.
It's time to take on up to 10 opponents from every corner of the planet in multiplayer mode. Two players will be assigned the role of impostors but no one will know who they are. Will you manage to discover the impostors before it's too late for your people to survive? Have fun!

MOVE

AIM

SELECCIONAR/ELIMINAR BLOQUES

USAR BLOQUE/CONSTRUIR

i

INVENTARIO

1

-

4

ITEMS