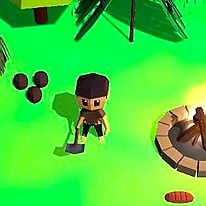 Mini Survival
43,288 Plays
How to play Mini Survival?
Enjoy an exciting action-adventure game inspired by the famous Minecraft with Mini Survival! Explore a unique environment in the middle of nature and get ready to collect all kinds of raw materials, food and animals in order to survive.
Combine some objects correctly to build tools and some clothes, and get to keep your life bar, hydration bar, food bar and happiness bar to the maximum. Live a unique experience as you strive to survive even in the dark and long night. Are you ready to live a unique experience?
What qualities stand out in Mini Survival?
Enjoy a unique 3D natural environment.
It collects all kinds of raw materials to build objects.
Search for food and water to survive.
Build cabins to protect yourself and rest
Test your ingenuity and creativity.