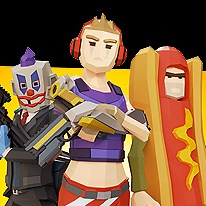 Light⚡Nite
-
33,720 Plays
How to play Light⚡Nite?
LightNite is a multiplayer Battle-Royale type game with integrated Bitcoin rewards. Players control their avatar in real time and compete in combat arenas for great rewards, all under a minimalist cartoon design.
How to earn Bitcoin by playing?
In LightNite players will be able to earn Bitcoin-based rewards while playing to monetize their hours of gameplay through a new level of interaction never seen before. In the LightNite Arena, Bitcoin can be obtained instantly through the loot dropped by opponents when eliminating them.
All items in the game have a real value and it will be up to the player to consume or trade them through the Lightning Network. The game is based on its own freemium ecosystem with a circular economy model associated with its own marketplace where you can buy and sell customization items.
How to start playing LightNite?
To start playing LightNite you need to download the Elixir launcher through its official website; once inside, click on Download at the top of the screen to install the Elixir game platform.
Once you have installed Elixir you will be able to log in to access the NFT-based gaming and trading platform.
To download LightNite go to Library - My Games and click on Download. Once installed click on Play to start playing and earn great Bitcoin rewards.
How to play LightNite?
Unlike other more static blockchain games with little interactivity and more speculation, LightNite offers a much more dynamic and direct gaming experience, in which the player actively participates in obtaining Bitcoin as a reward. To this end, LightNite offers up to four distinct game modes:
COVID-19 Survival: Fight against the spread of gigantic viruses through a map with different foci of infection; you will win if you destroy the different infection cores in less time than the allotted time.
Multiplayer Deathmatch: 5-minute matches for up to 8 players of all against all in a combat arena. Upon death, the player respawns in another random location; the player with the highest score wins the match.
Battle-Royale: A pure Battle-Royale mode in which the player battles each other until only one player is left standing. Allows games for 1, 2 and 4 players.
Arena: A multiplayer mode in which users decide the characteristics of each game through the level of the players and the value of the items they equip. When a player dies, he drops his items; the rest of the opponents must decide whether to risk picking them up or wait for others to try to eliminate them.
What events does LightNite offer?
In addition to the game modes, LightNite also offers up to three types of events that take place every so often:
Competitions: Tournaments or contests open to everyone that offer the chance to get more bitcoin or win NFTs.
Giveaways: Some bitcoins will be hidden on the map and players will have to discover their whereabouts as quickly as possible.
Flash modes: Creative game modes such as one in which players earn bitcoins by shooting opponents and, in turn, lose bitcoins when they are shot.
What items can be purchased in the store?
The LightNite store offers four basic types of items:
Character skins: Assorted skins for characters.
Equipment: pieces of equipment that only affect the cosmetic part.
Hoverboards: Possibility to fall from the sky when the game starts.
Weapons: In-game weapons such as pistols, swords, shotguns and more.
Supply and tokenization of assets
Each type of item belongs to a rarity category that determines its supply in the game:
Legendary: 1 unit.
Rare: Maximum supply of 100 units.
Premium: Maximum supply of 500 units.
Normal: Unlimited supply.
All LightNite items are tokenized using the Bitcoin blockchain, ensuring that the limited units of an item are real and cannot be modified. This feature is crucial for the development of the game, allowing a secure and reliable internal market for all players.
Access to Elixir's Bitcoin NFT marketplace
LightNite uses the Elixir platform's Bitcoin NFT marketplace to ensure fair play and that no one can modify any parameters to their advantage.
Join the competitive world of LightNite now and start generating profits for yourself through your active games against other players.
Gameplays
There are no gameplays yet
Minitorneos, chat & make friends
🕹️ Which games are similar to Light⚡Nite?
❤️ Which are the latest Action Games similar to Light⚡Nite?
🔥 Which are the most played games like Light⚡Nite?