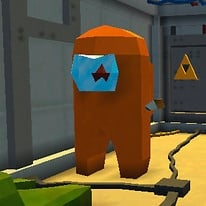 Kogama: Fall Guys vs Among Us
-
26,625 Plays
How to play Kogama: Fall Guys vs Among Us?
Enjoy an adaptation of two of today's most loved and played games in Fall Guys & Among Us! Are you ready for some fun? Scroll through a unique environment full of details, obstacles, enemies and lots of traps and enemies, while you enjoy crushing your opponents with all kinds of weapons, flying ships and dozens of items.
Join this crazy version of Kogama created by its users as you collect as many points as you can and move through fabulous 3D scenarios trying to survive at all costs. It sounds like a simple task but, you'll have to traverse a hostile environment full of enemies as you try to survive dangerous attacks and some killer traps scattered along the way. The objective of the game is to discover the impostors scattered around the stage and expel them before it's too late for you, or else make your opponents run away from you in terror. Will you manage to survive to the end?
MOVE

GIRAR

SELECT

JUMP

e

USE