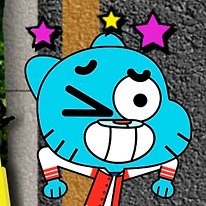 Gumball Dash n Dodge
5,343 Plays
How to play Gumball Dash n Dodge?
Put your amazing reflexes to the test in Gumball Dash n Dodge and dodge the dangerous obstacles along the way and your sinister enemies if you want to survive. It sounds simple enough, but the road will get more and more complicated! How long will you be able to stay alive?
Watch your surroundings very carefully from an aerial view and be prepared to avoid falling into all kinds of traps. You will have the opportunity to choose between 3 different characters to live your adventure, will you choose Gumball, Darwin or Anaís? Any choice will be a good one as all of them will do whatever it takes to survive to the end in this disturbing adventure. Good luck...