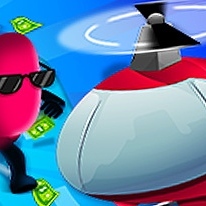 Get to the Choppa
19,466 Plays
How to play Get to the Choppa?
Get to the Choppa! is the phrase Schwarzenegger uses in the film Predator to get a Vietnamese woman into a helicopter to escape. Well, in this game that's exactly what you have to do.
Help your fragile balloon man get to the helicopter! Avoid vehicles and obstacles as you race through the city on your way to the helicopter. Use your speed and skill to pick up money from the ground to increase your score. Once you reach the Choppa, it will take you out of danger but you'll have to try and catch it again, until you can't anymore.