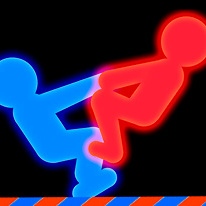 Get on Top Touch
22,587 Plays
How to play Get on Top Touch?
Get ready for an exciting experience with a wonderful yet extremely aggressive multiplayer game that will test your wits and strength. Are you ready to show off your fighting skills in Get on Top Touch?
In this one or two player game you will participate in a tough battle where the two characters are completely interconnected. Use your strength and inertia to defeat your opponent and rip his head off with a single blow - think about your attacks patiently and have a great time claiming victory!
Who created Get on Top Touch?
This game has been developed by Hihoy.